Advantages Of Le Auto Coffee Vending Machine
Advantages Of Le Auto Coffee Vending Machine
Machine internet connection status, sales records, fault report can be checked via web portal management from internet browser or even push to your mobile phone in real time. Drink Recipe setting and menu setting can be pushed to all your automatic coffee machines by simply one click on the web management system.
coffee extraction from fresh ground Coffee powder mixed with hot water under high pressure which gurantees the best coffee taste from commerical coffee vending machines.
lntelligent operation system and big interface design, coffee vending machine with 32 inchestouch screen which enables menu display, advertising photos and videos broadcasting, etc.
Automatic cup dispenser and cup lid dispenser both available.
Bill validator, coin changer,Bank Card, IC card,ID card, as well as mobile QR code payment are all supported.
Automatic cleaning., statics and Self diagnosis.
IOT technology are applied which enables remote real-time monitoring.
Different Types Of Coffee Vending Machines To Your Needs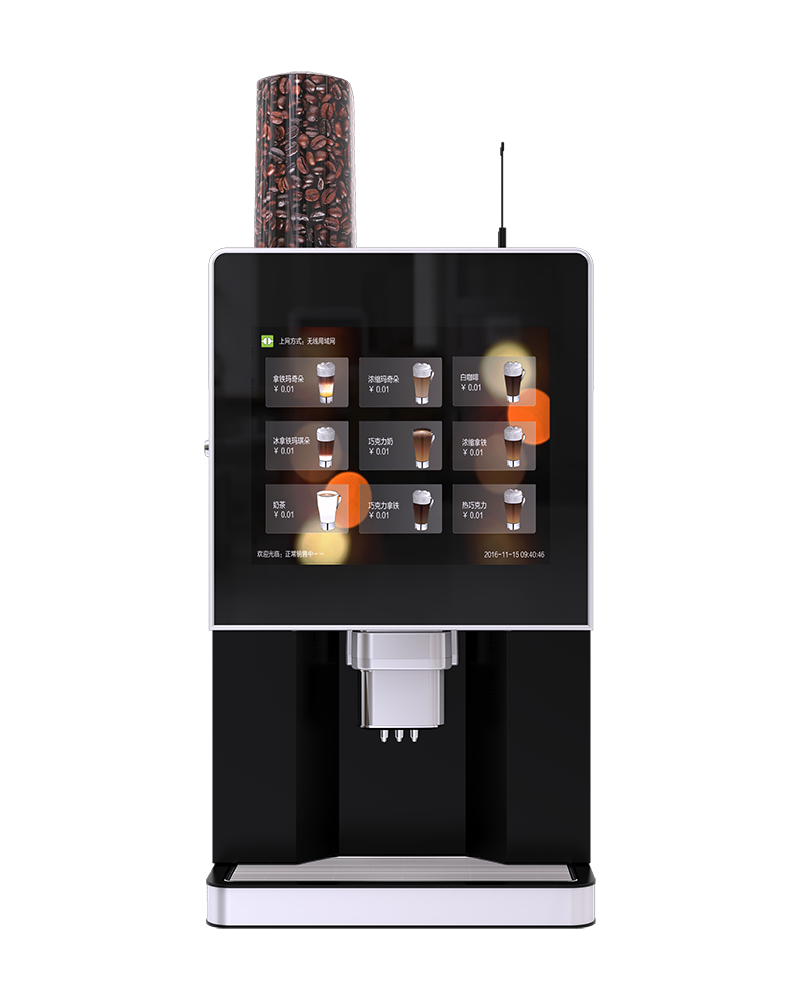 Table type mini coffee vending machine LE307A
Table type mini coffee vending machine LE307A is suitable for resturant, hotel, office, convenient store, where people can easily get cups or bring with him or her own cup.Elegant design with aluminum frame, big interfacescreen with 17inches touch screen, function of internet connection, fully automatic operation brings consumers modernized and luxury consuming experience.One coffee bean house and three canisters for instant powder(suchas sugar, milk, chocolate, tea.,etc) , which enables more than 9 kinds of differernt tastes. Mobile QR code payment is supported. But of course you can use its free mode. Consumer just need one simple click will get a cup of hot fresh ground coffee ready within 30 seconds.
Stand type coffee vending machine LE308G,LE308E,LE308B
stand type coffee vending machine LE308G,LE308E,LE308B can be located at any public area with large human traffic, such as university, library, airport, metro station, theater, hotel, shopping mall, 24hours unmanned cafe where consumers pursuits mostly on convenience and effiency. With built-in automatic cup dispenser and cup lid dispenser, from coffee ordering, payment until coffee making, the whole procedure is 100% automatic, no burdenfrom human contact, esp. under corona virus situation nowadays all over the world.One coffee bean house and five canisters for different instant powder, including tea powder, milk powder, juice powder, which combines coffee vending, juice vending and tea vending into one machine, which can be called tea coffee vending machine as well.Furthermore, you can choose coffee vending machines according to local consuming habit to add an ice maker orwater cooling system or without. Except the features of above, LE-209C combines coffee and tea drinks vending withsnacks&drinks vending into one machine. In this way, two machines shares the same touch screen,PC but provided with more options on bottled drinks, snacks, instant noodle, even daily consuming commodities.