Automatic hot & Ice Coffee Vending Machine with big touch screen
Product Detail
Video
FAQ
Product Tags
LE308G
LE308E
●Machine Size:
(H)1930*(D)900*(W)890mm(Including Bar Table)
(H)1930*(D)700*(W)890mm(Including Bar Table)
●Net Weight:
≈225Kg, (Including ice maker)
≈180Kg, (Including water chiller)
● Rated Voltage
AC220-240V, 50-60Hz or AC 110~120V/60Hz; Rated power: 2250W, Standby power: 80W
AC220-240V, 50Hz or AC 110~120V/60Hz; Rated power: 2250W, Standby power: 80W
●Display Screen:
32inches, Multi-finger touch (10 finger), RGB full color, Resolution: 1920*1080MAX
21.5inches, Multi-finger touch (10 finger), RGB full color, Resolution: 1920*1080MAX
●Communication Interface:
three RS232 Serial port ,4 USB 2.0 Host,One HDMI 2.0
three RS232 Serial port , 4 USB 2.0 Host, one HDMI 2.0
●Operation System:
Android7.1
Android 7.1
●Internet Supported:
3G,4G Sim card, Wifi, Ethernet port
3G,4G Sim card, WIFI, One ethernet port
●Payment Type
Cash, Mobile QR code, bank card, ID card, Barcode scanner,etc
Cash, Mobile QR code, bank card, ID card, Barcode scanner,etc
●Management System
PC terminal + mobile terminal PTZ management
PC terminal + mobile terminal PTZ management
●Detection Function
Alert when out of water, cups, beans or ice
Alert when out of water, cups or beans
●Water Supply Mode:
By water pumping, Bottled Purified water (19L*3bottles);
By Pumping, Bottled Purified water (19L*3bottles);
●Cup Capcity:
150pcs, cup size ø90, 12ounce
150pcs, cup size ø90, 12ounce
●Cup lid Capacity:
100pcs
100pcs
●Built-in Water tank Capacity
1.5L
1.5L
●Canisters
One coffee bean house: 6L (About 2kg); 5 canisters, 4L each (about 1.5kg)
One coffee bean house: 6L (About 2kg); 5 canisters, 4L each (about 1.5kg)
● Dry Waste Tank Capacity:
15L
15L
●Waste Water Tank Capacity:
12L
12L
●Door Lock:
Mechanical Lock
Mechanical Lock
●Cup door:
Open automatically after drinks ready
Open automatically after drinks ready
●Cup lid door
Slide up and down manually
Slide up and down manually
●Sterilization system:
Time-controlled UV lamp for air, UV lamp for water
UV lamp for water
●Application Environment:
Relative Humidity ≤ 90%RH, Environment Temperature: 4-38℃, Altitude≤1000m
Relative Humidity ≤ 90%RH, Environment Temperature: 4-38℃, Altitude≤1000m
● AD Video
Supported
Supported
● AD Light lamp
Yes
Yes
Ice Maker Specification
Water Chiller Specification
●Machine size:
(H)1050*(D)295*(W)640mm
(H)650*(D)266*(W)300mm
●Net Weight:
≈60Kg
≈20Kg
● Rated Voltage
AC220-240V/50Hz or AC110-120V/60Hz, Rated Power 650W, Standby power 20W
AC220-240V/50-60Hz or AC110-120V/60Hz, Rated Power 400W, Standby power 10W
●Water Tank Capctiy:
1.5L
By compressor,
●Ice Storing Capacity:
≈3.5Kg
≈10ml/s
●Ice Making time:
Water temperature around 25℃<150mins, Water temperature around 40℃<240mins
Inlet water 25℃ and outlet water 4℃,Inlet water 40℃ and outlet water 8℃
●Measuring Method
by Weighing sensor and motor
Flow meter
●Releasing Volume/Time:
30g≤ice volume≤200g
Min≥10ml, Max≤500ml
●Refrigerant
R404
R404
●Function Detection
Water shortage, Ice full Detection, Ice release timeout detection, Gear motor detection
Water Outlet volume detection, Water outlet temperature detection, Cooling temperature detection
●Application Environment:
Relative Humidity ≤ 90%RH, Environment Temperature: 4-38℃, Altitude≤1000m
Relative Humidity ≤ 90%RH, Environment Temperature: 4-38℃, Altitude≤1000m
Available for 16 kinds of hot or iced drinks, including (iced) Italian Espresso, (iced) Cappuccino,(iced) Americano,(iced) Latte, (iced) Moca, (iced) milk tea, iced juice, etc.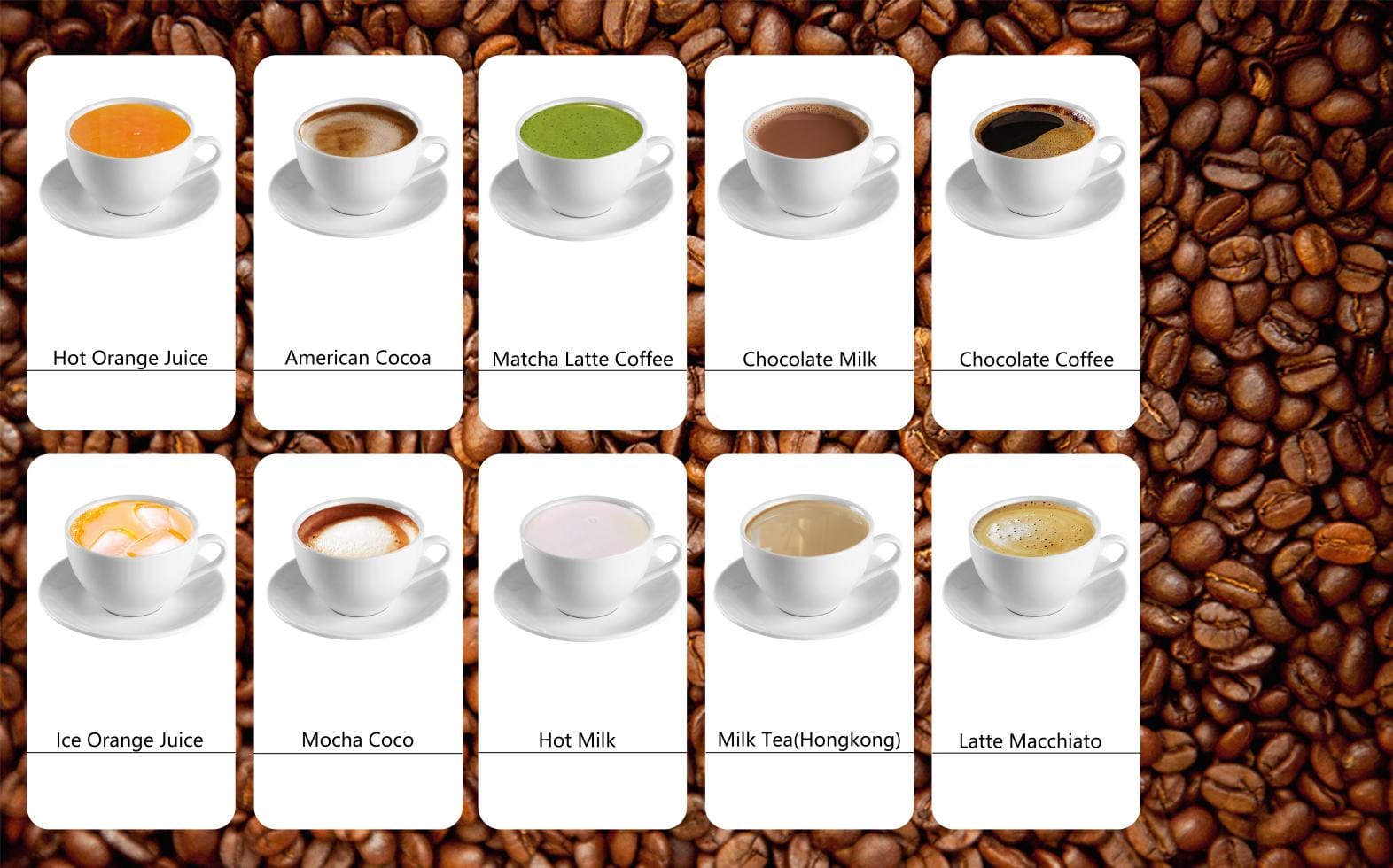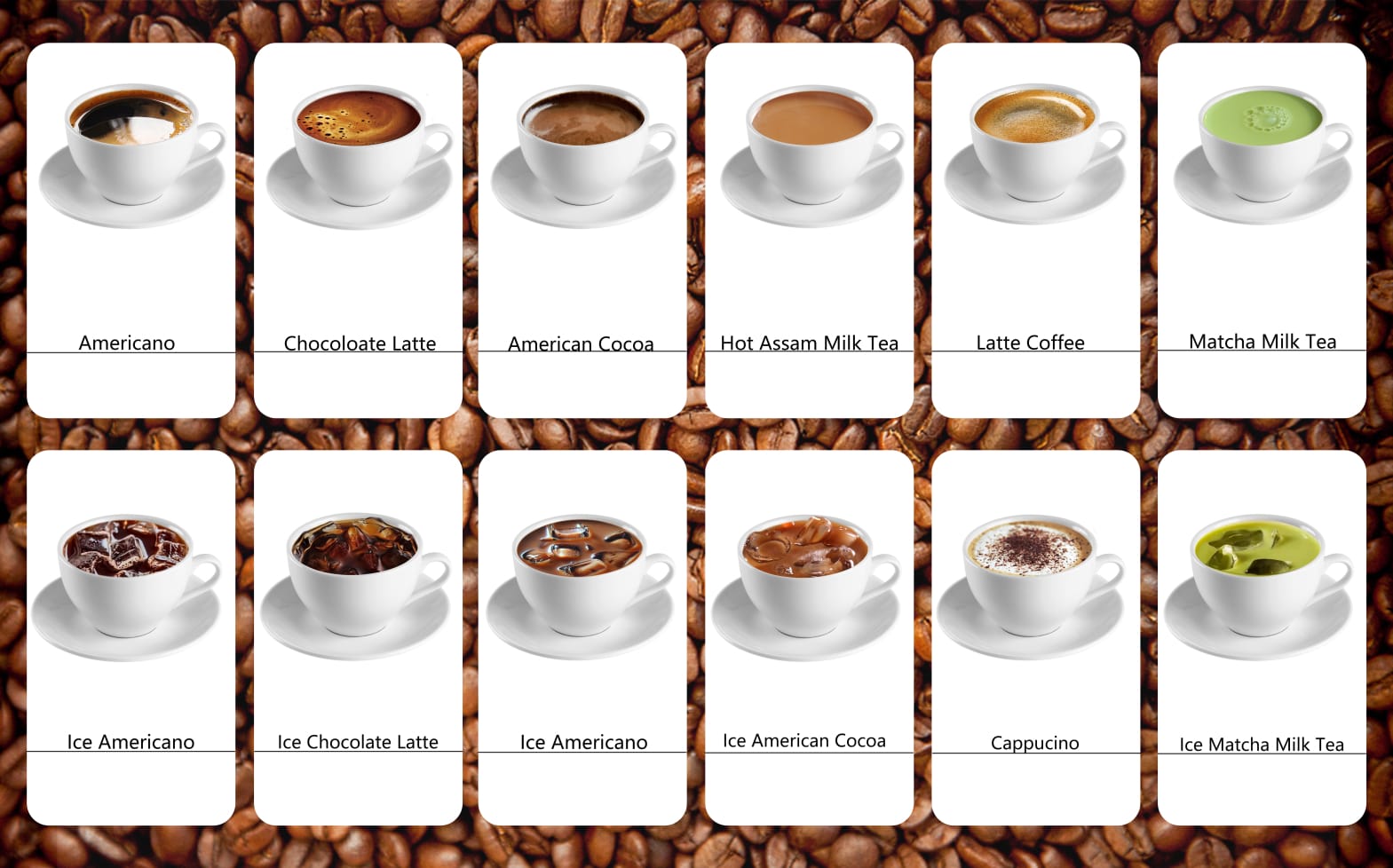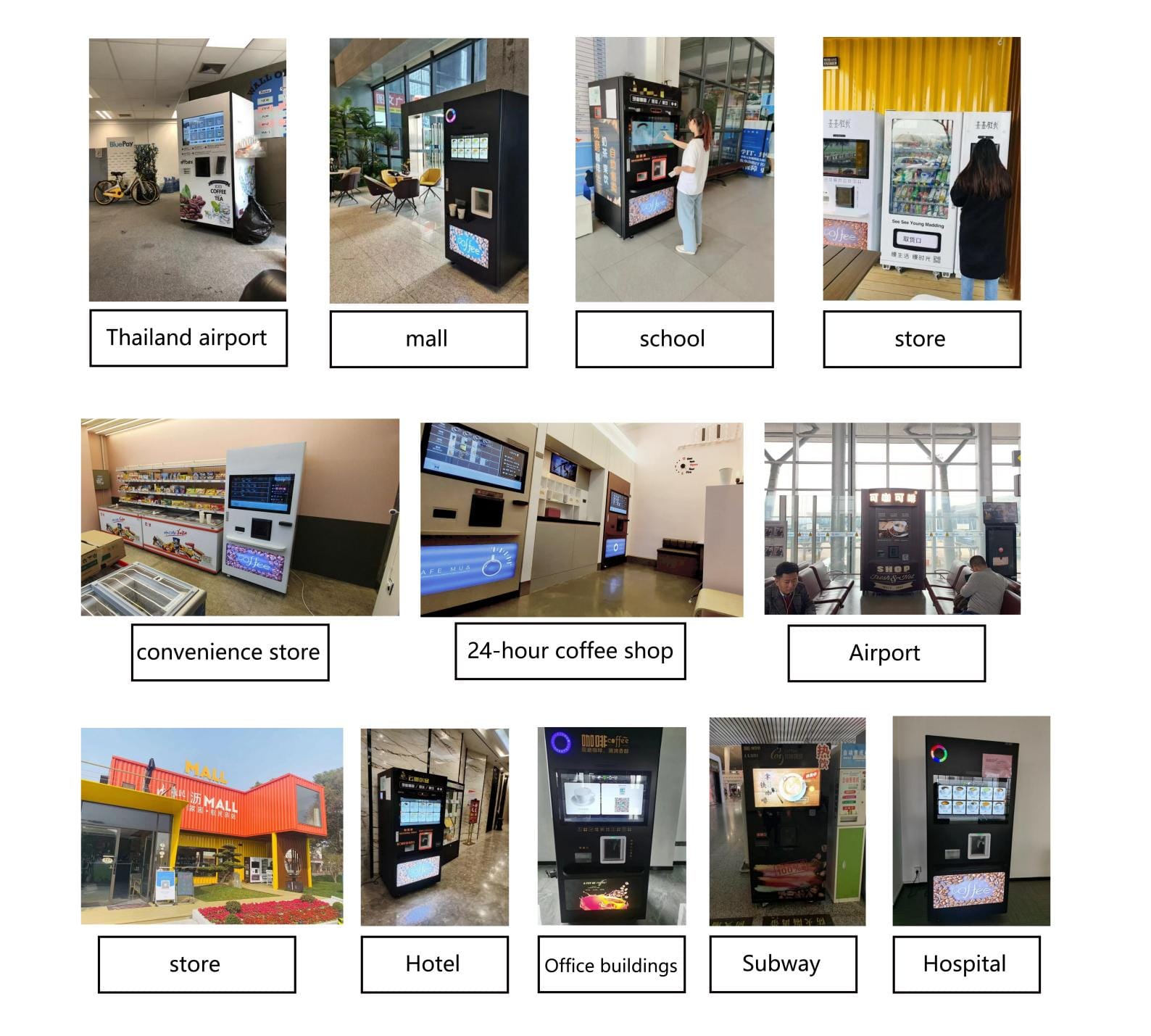 To know the machine parts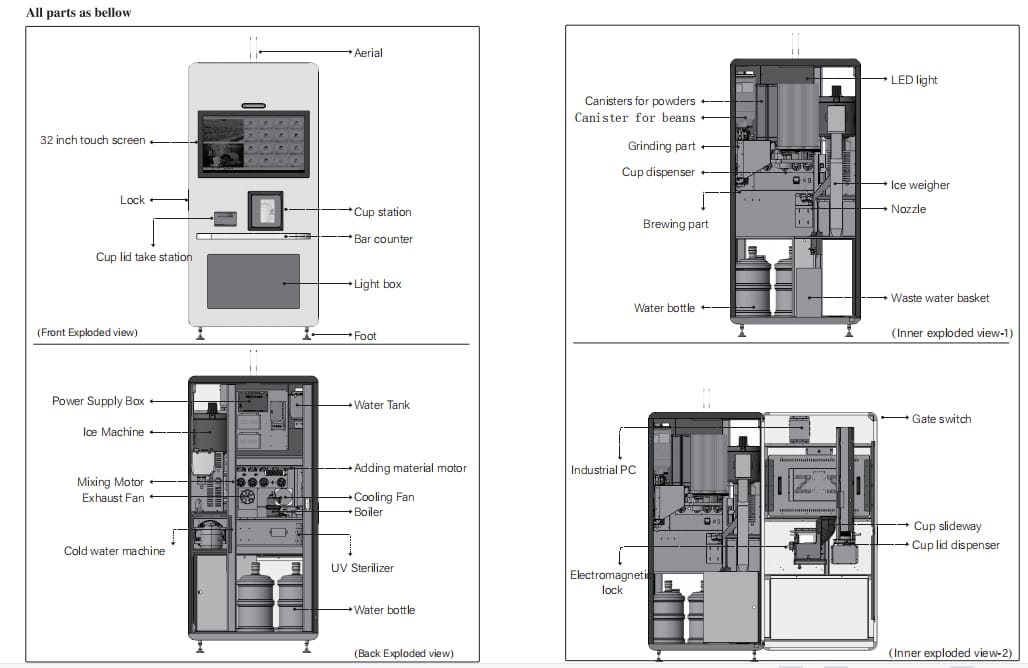 Sample is suggested to be packed in wooden case and PE foam inside for better protection since there is big touch screen which is easy broken. While PE foam only for full container shipping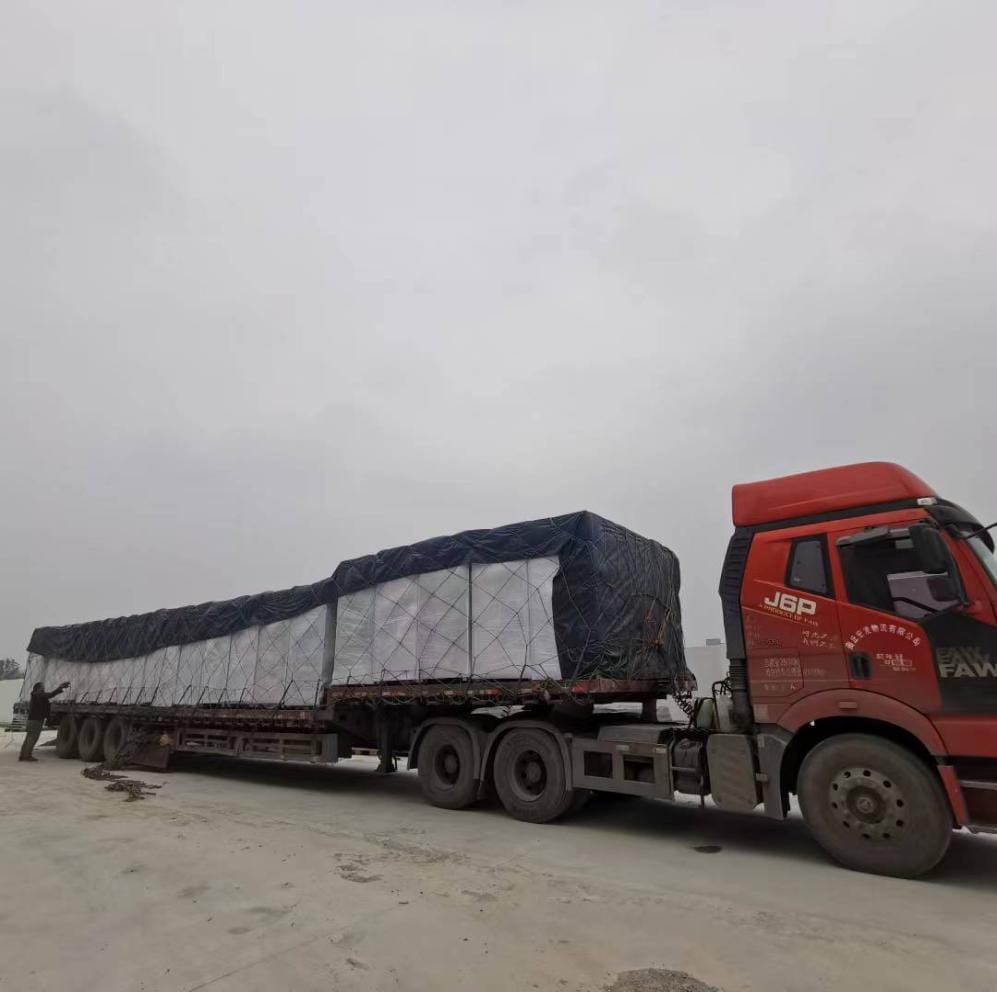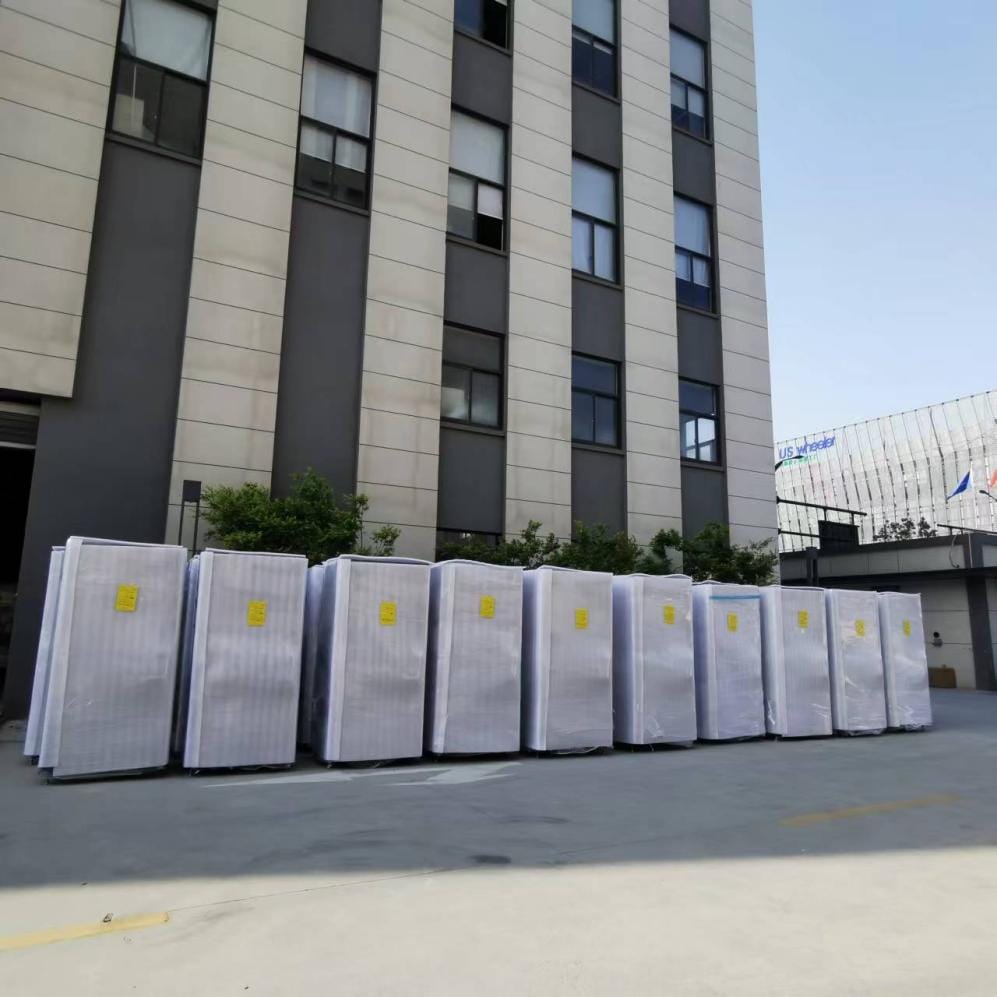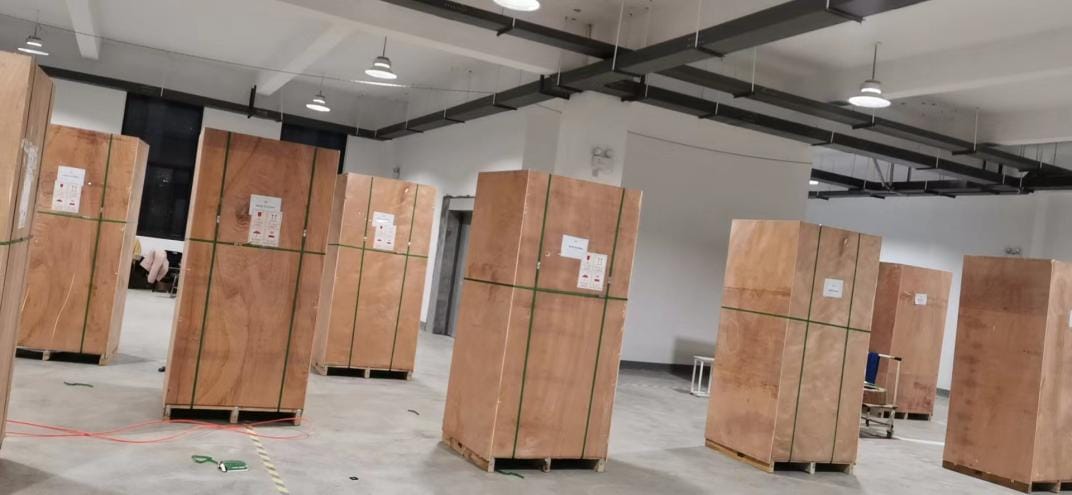 ---
---
Does it support the paper currency and coins of my country?
Generally yes, our machine support ITL bill acceptor, CPI or ICT coin changer.
Can your machine support mobile QR code payment?
Yes, but I'm afraid it needs integration with your local e-wallet first and we can provide the payment protocol file of our machine.
What's the delivery time if I place an order?
Usually about 30 working days, for accurate production time, please send us an inquiry.
How many units can be put in one Container maximum?
12 units for a 20GP container while 26 units for a 40HQ container.