Smart Tabletop Fresh Ground Coffee Maker with 17 inches screen
Product Detail
Video
FAQ
Product Tags
LE307A
LE307B
●Machine Size:
H1000 (mm) x W438 (mm) x D540 (mm) (Height includes the coffee bean house)
H1000 (mm) x W438 (mm) x D540 (mm) (Height includes the coffee bean house)
●Net Weight:
52KG
52KG
●Base Cabinet(Optional) Size:
H790 (mm) x W435 (mm) x D435 (mm)
H790 (mm) x W435 (mm) x D435 (mm)
● Rated Voltage and Power
 

AC220-240V, 50~60Hz or AC 110~120V/60Hz;  Rated power: 1550W, Standby power: 80W

 

AC220-240V, 50~60Hz or AC 110~120V/60Hz;  Rated power: 1550W, Standby power: 80W

●Display Screen:
17inches, Multi-finger touch (10 finger), RGB full color, Resolution: 1920*1080MAX
7 inches,  RGB full color, Resolution: 1920*1080MAX
●Communication Interface:
three RS232 Serial port , 4 USB2.0Host, one HDMI 2.0
three RS232 Serial port , 4 USB2.0Host, one HDMI 2.0
●Operation System:
Android 7.1
Android 7.1
●Internet Supported:
3G,4G Sim card, WIFI, one Ethernet port
3G,4G Sim card, WIFI, one Ethernet port
●Payment Type
Mobile QR code
Mobile QR code
●Management System
PC terminal + mobile terminal PTZ management
PC terminal + mobile terminal PTZ management
●Detection Function
Alert when out of water or out of coffee beans
Alert when out of water or out of coffee beans
●Water Supply Mode:
By water pump, Purified bucket water (19L*1bottle);
By water pump, Purified bucket water (19L*1bottle);
●Built-in Water tank Capacity
1.5L
1.5L
●Canisters
one coffee bean house, 1.5KG; Three canisters for instant powder, 1KG each
one coffee bean house, 1.5KG; Three canisters for instant powder, 1KG each
● Dry Waste Box Capacity:
2.5L
2.5L
●Waste Water Tank Capacity:
2.0L
2.0L
●Application Environment:
Relative Humidity ≤ 90%RH, Environment Temperature: 4-38℃, Altitude≤1000m
Relative Humidity ≤ 90%RH, Environment Temperature: 4-38℃, Altitude≤1000m
●Extraction Method:
Pumping Pressure
Pumping Pressure
● Heating method
Boiler heating
Boiler heating
● Advertising Video
Yes
Yes
● Cabinet Material
Gavalized steel with paint
Gavalized steel with paint
● Door Material
Aluminum frame and acrylic door panel
Gavalized steel with paint
Available for 9 kinds of hot drinks, including Italian Espresso, Cappuccino, Americano, Latte, Moca,milk tea, hot chocolate, etc.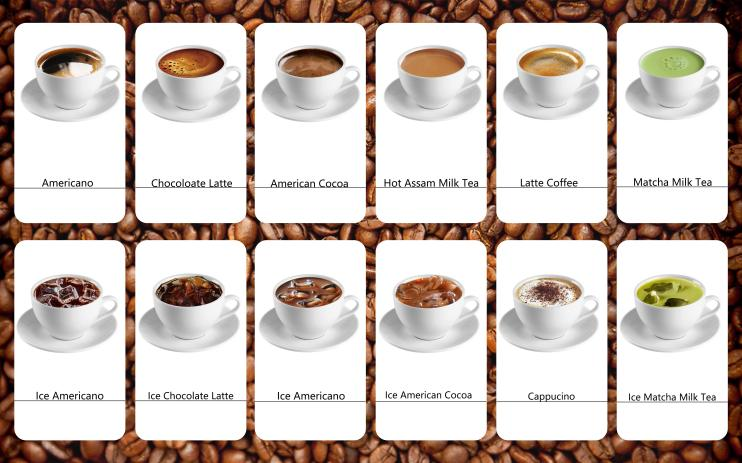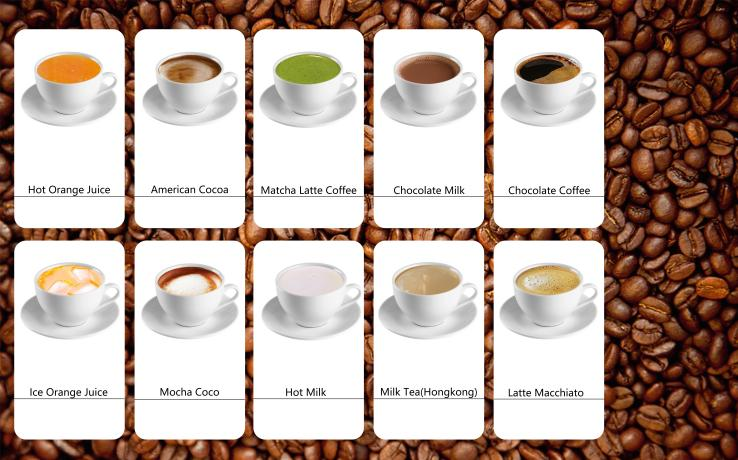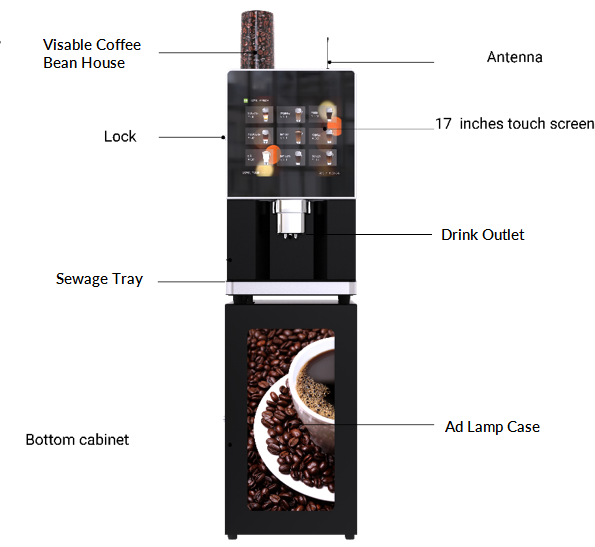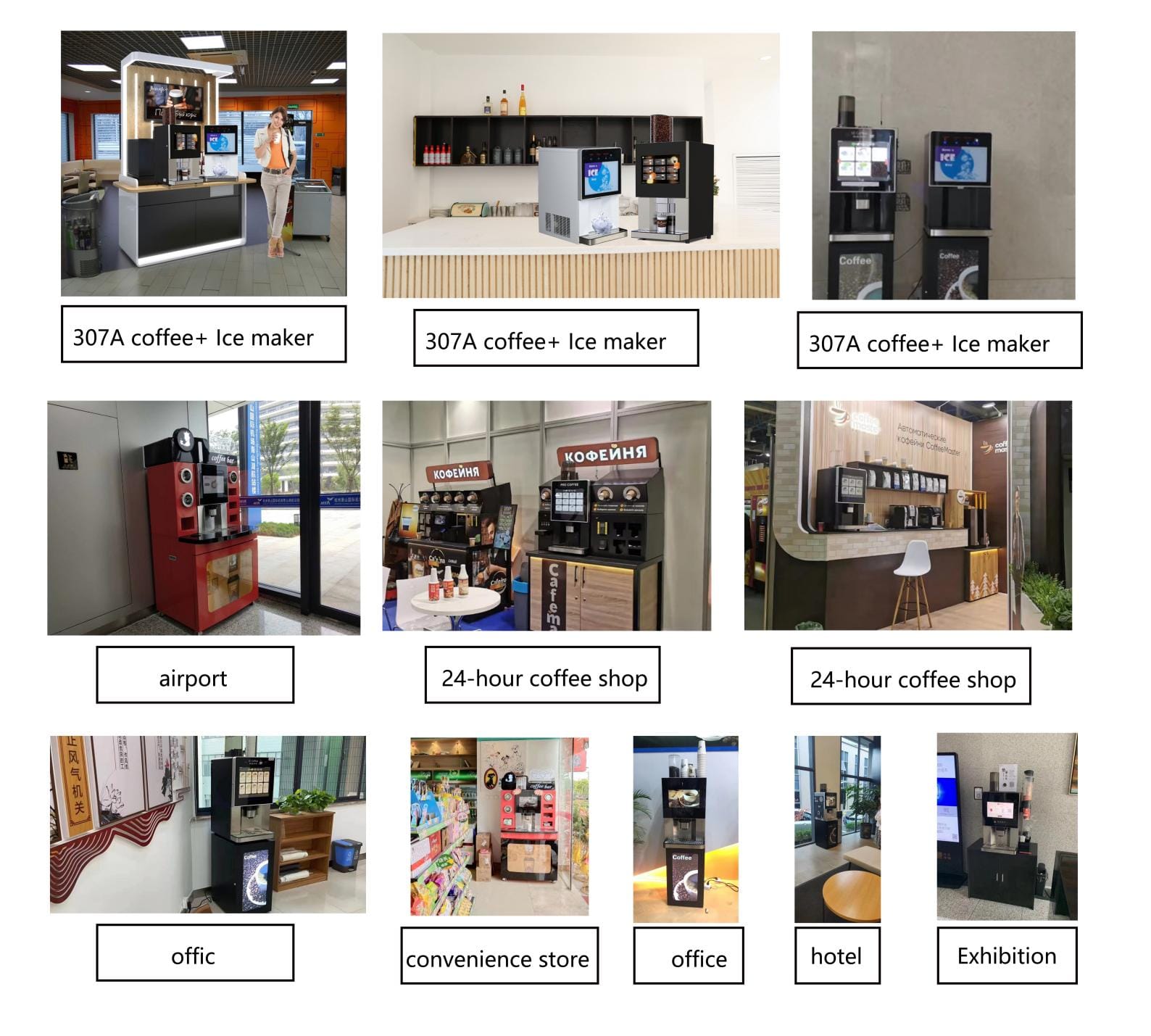 Sample is suggested to be packed in wooden case and PE foam inside for better protection since there is big touch screen which is easy broken. While PE foam only for full container shipping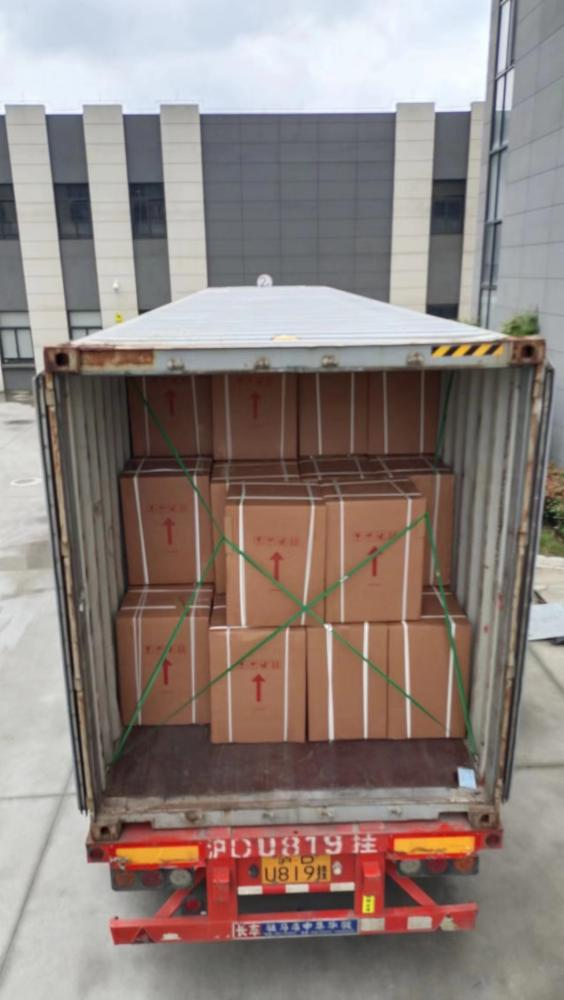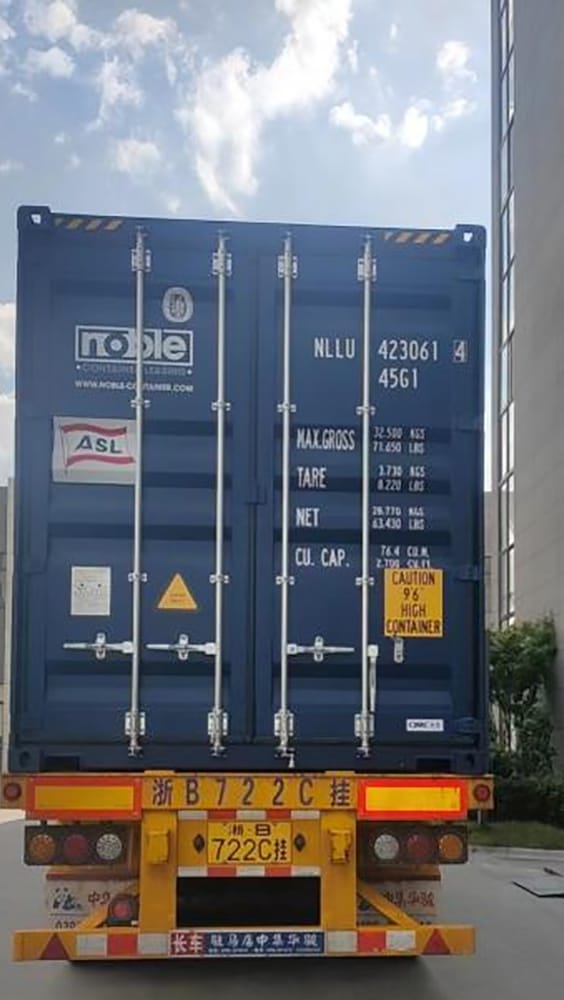 ---
---
1.What's the water supply mode?
The standard water supply is bucket water. If you need to connect to running water, then a water filter shall be installed. Besides, customization may be requested please contact LE sales service for for more details.
2.What payment system can I use?
Our machine support paper currency, coins, bank card, prepaid card, mobile QR code payment, free mode.
But please tell which country do you plan to use at first, then we will check available payment system for specified country.
3.What's password for entering management system on the software?
The factory default setting is 352356. But once you changed the password, then please keep it well by yourself.
4.What ingredients to use on the machine?
Coffee beans, five different instant powder, such as sugar powder, milk powder, chocolate powder, coco powder, Juice powder.