Built-in ice maker(spare parts for LE308G)
Product Detail
Video
Product Tags
Ice Maker Specification
1 Exterior Dimension 294*500*1026mm
2 Rated Voltage AC 220V/120W
3 Compressor Voltage 300W
4 Water Tank Capacity 1.5L
5 Ice Storing Capacity 3.5Kg
6 Ice Making Time request
1) Environment Temperature 10 degree -90min
2) Environment Temperature 25 degree -150min
3) Environment Temperature 42 degree -200min
7 Net Weight About 30Kg
8 Ice dispensing volume About 90-120g / 2S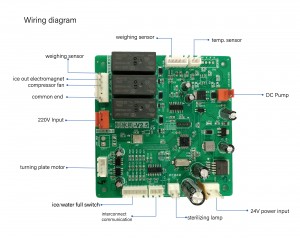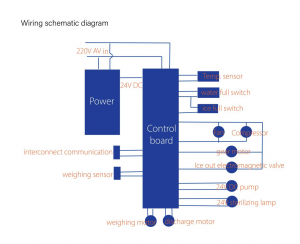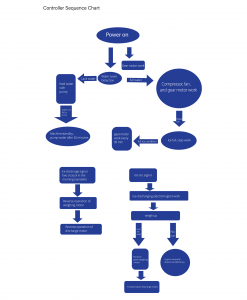 Maintenance Principles
★Daily tools: movable wrench, steel wire pliers, pointed tongs,flat head and cross screwdriver, measuring pen,tape ruler small brush,hairdryer etc.Thermal melt gun, Wiring pliers.
★Instruments: pressure gauges, multi-meters, clamp ammeters, electronic scales digital thermometers, etc.
★Maintenance of refrigeration systems: vacuum pumps refrigerant cylinders, Ni-trog en cylinders, pressure relief valves, filling pipes,quantitative fillers, acetylene cylinders, oxygen cylinders, Welding gun, pipe bender, pipe ex pander, pipe cutter three-way valve, sealing clamp, etc.
 Maintenance Principles
★External before Internal: First eliminate the influence of external factors, and then check the internal substantive failure of the ice maker.
★Electricity before cooling: First eliminate the electrical fault, make sure the compressor run normally, and then consider the refrigeration fault.
★Conditions before devices: If the compressor does not work,should first check whether the working voltage required for operation is available, whether there are problems with the starter and temperature controller and finally consider the com-presser itself.
★Easy before difficult: first check the easy-to-occur, common and single fault, and first check the fragile and easy-to-disassemble parts, then consider the combination, low failure rate and difficulty disassembled devices.
3 ice Making Machine Maintenance Procedure and Inspection Method of Major Parts
★Maintenance procedure of refrigeration system: observe internal and external refrigeration pipeline exhaust air→pressure and leakage detection→replace device or repair leak blow through replace dry filter>Vacuum extraction inject refrigerant test machine→ sealing
★Electrical system maintenance procedures: whether the electrical components are
Complete whether the connection method is consistent with the circuit diagram>whether there is a short circuit or circuit breaking phenomenon insulation condition→Check whether the compressor starter and overload protector are in good condition→check the startup performance
★Compressor:
A/ Test the resistance of each winding of Compressor: Unplug the power cord→ Remove the relay from the compressor Measure the resistance of each Winding(The resistance value from the operating end to the common end +resistance value from the starting end to the common end = resistance value from the running end to the starting end).
B/ Adjust the ohmmeter to the maximum gear and measure the resistance of the terminal to the ground. lf a group of winding are found to be short-circuit to the ground or the resistance value is small, then the compressor is out of order
Common troubleshooting
Failure
Fault phenomena
Check the cause of the malfunction
Solutions
1
No ice making
1.No ice while ice making motor is working
Check whether the compressor and fan are working properly, and use multi-meter to measure the output voltage at the control board
If the PCB board has no output, the controller needs to be changed or compressor fan damage need to be replaced
2.No ice while Compressors and ice-making motors work
Check whether there is water (water level in water tank); whether the suction and exhaust temperature  is normal
Low water level show water shortage float switch  off for more than4 minutes will also show water shortage; if exhaust and suction temperature is high it should w be  refrigerant leakage (no leakage, add liquid)
3.Compressor fan works, ice making motor does not work
Check whether the PCB board has output voltage and whether the motor is damaged; Check whether the screw is frozen
If the PCB board has no output,the controller needs to be changed. If the motor is damaged replace the motor If the screw is frozen, it is necessary to open the machine to check whether the screw and the cutter is damaged and need to be replaced;if the screw is not damaged and frozen the machine can be operated by electricity.
2
Ice not coming out
1. No ice was released when the machine received the instruction for ice release.
Check whether the electromagnet is turned on and whether the ice making motor is turning
Replace electromagnet or PCB board;Ice making motor method is the same as that of no ice making

Ice won't come down in the weigh

Whether the weighing motor works (close, open)
Whether the weighing motor is damaged or the PCB is damaged.If damaged, please replace

Ice fell into the wastewater bucket.

Ice discharge motor does not work or works in reverse direction
Whether the discharge motor damaged or PCB damaged? If damaged, please replace.
3
Ice is fragmen-ted and contains a lot of water.
1. The ice came out broken and fell down in batteries.
1. Ice is crushed when it is made2. Ice is crushed when it is stirred.
1. ice knife needs to be replaced;2. filter plate needs to be replaced and the ice outlet cover plate needs to be adjusted
2. Ice has a large water content and is not easy to slide
1. Ice is crushed when it is made2. Ice is crushed when it is stirred.
Ditto. Some tunnels can be added to the ice knife to increase the ice resistance.
4
The amount of ice coming out is unstable.
1. Much ice: Check whether the ice is caked with high water content
Ice came down in batteries.
Remove all the ice in the ice bucket and adjust the quality of the ice such as the method No. 3 above
2.Less ice
1. ls there not enough ice in the ice bucket2. Is there any foreign matter in the ice skating track that prevents the ice from sliding out?
It is necessary to adjust the system to show the lack of ice in the upper computer clear the slide and keep the ice falling smoothly
---
---